The first castle in Fushimi was built by Toyotomi Hideyoshi on Shigetsu Hill (Momoyama-cho Taichoro, Fushimi-ku, Kyoto) in 1592. Following subsequent rebuilding and development, a castle town measuring 4 km east-west and 6 km north-south was formed. Its population swelled to tens of thousands, making it one of the biggest cities in the country after Edo, Osaka, and Sakai, and it served politically as the de facto capital of Japan. Central Fushimi was a neatly laid out cityscape of samurai residences belonging to various daimyo encircling the castle. Along with the development of the castle town, the banks of the Uji River were redeveloped and the Yodo and Katsura rivers linked, allowing the town to prosper as a riverside trading town. Roads were built along the tops of the banks, with the Kyo-kaido Road built on the Bunroku Bank linking Fushimi with Osaka Castle, and other major roads like the Saigoku-kaido, Yamato-kaido, and Otsu-kaido roads, as well as the Takeda-kaido and Fushimi-kaido roads leading to the capital, all passed through Fushimi. Thus, Fushimi became the gateway to Kyoto as well as a major land and water transport hub connecting Nara and Osaka.
The area to the west of the samurai residences was home to merchants and artisans, who obtained official appointments to supply items to the samurai. Sake brewers also flourished in this area, supplying the castle town with the sake it demanded. From this point on, Fushimi's development as a city was linked to its wealth of water for sake brewing, leading to a concentration of the brewing industry here.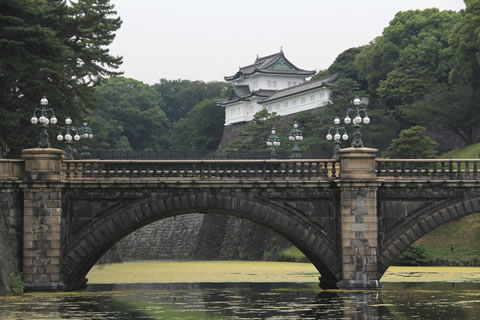 ▲Fushimi Castle was abandoned in 1624. The keep was dismantled and shipped to Yodo Castle, while the towers, gates, stone walls and other parts were relocated to castles, temples and shrines around the country. One of the most important buildings that still allow visitors to sense the old Fushimi Castle is the Fushimi Tower that was relocated to Edo Castle in 1628 (photo), which can still be seen rising elegantly beyond the Double Bridge (nijubashi; the front stone bridge and the rear iron bridge) that lead from the Outer Gardens of the Imperial Palace. The Shrine Gate (shinmon) of the Gokonomiya Shrine is known as one of the places in Fushimi where remnants of the old castle can still be seen.